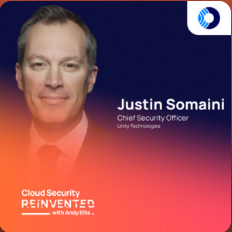 Security and privacy are burning topics in the cloud era. But not many companies have professionals dealing with these issues. Therefore, it's critical to make the topic of cybersecurity more accessible to business owners and board members.
In this episode of Cloud Security Reinvented, we get to hear from Justin Somaini, the Chief Security Officer of Unity Technologies. Justin and our host Andy Ellis discuss cloud security and how companies in the iGaming industry approach it.
They also discuss the past and present of cybersecurity and share predictions regarding the cloud's future. Justin also shares a valuable piece of advice anyone interested in becoming part of the security industry could benefit from.
Guest-at-a-Glance
💡 Name: Justin Somaini
💡 What he does: Justin is the Chief Security Officer of Unity Technologies.
💡 Website: Unity Technologies
💡 Noteworthy: Before joining Unity Technologies, Justin worked at PricewaterhouseCoopers and Charles Schwab.