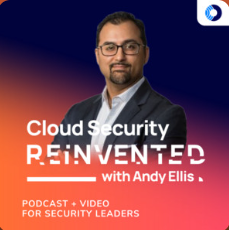 Episode Summary
It's been more than a decade since the cloud emerged as a new concept. And it's safe to say that it has practically become the new normal, especially since the COVID-19 outbreak.
However, when it comes to improving cyber security and risk management in the cloud, we still have a long way to go.
In this episode of the Cloud Security Reinvented podcast, our host Andy Ellis welcomes Sameer Sait, an information security expert and the former CISO of Amazon's Whole Foods Market. They talk about the shift in security mechanisms due to the explosion of the cloud, the importance of shared responsibility, and what we can learn from highly regulated industries. Tune into this episode to hear some insightful observations about the future of cybersecurity.
##
Guest-at-a-Glance
💡 Name: Sameer Sait
💡 What he does: He's the former CISO of Amazon's Whole Foods Market.
💡 Company: N/A
💡 Noteworthy: He's an information security and risk executive with 16+ years of global leadership experience at Fortune 100 firms.