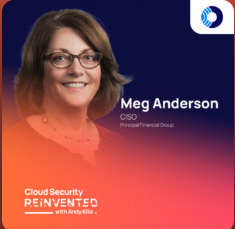 https://open.spotify.com/episode/4cWnHffaVFtWrf2fAOlfDU
Episode Summary
The cloud has been around for a while now. And ever since it emerged — two decades ago — it has brought in new ways to think about security, identity, and access management.
But at the end of the day, we still need to make sure that the right people have the right information at the right time.
In this episode of the Cloud Security Reinvented podcast, our host Andy Ellis welcomes Meg Anderson, the VP – CISO at Principal Financial Group. They talk about the changes in cloud security since the emergence of the cloud, some of the best and worst practices, and what the future holds for cloud security.
##
Guest-at-a-Glance
💡 Name: Meg Anderson
💡 What she does: She's the VP – CISO at Principal Financial Group.
💡 Company: Principal Financial Group
💡 Noteworthy: Meg participates in a number of CISO councils. She is a board member of the Financial Services Information Sharing and Analysis Center (FS-ISAC), where she chairs the Strategy Committee and is on the FinCyber Advisory Group for the Carnegie Endowment for International Peace. Before the role of VP – CISO, Meg acquired over twenty years of technical and leadership experience in application development.