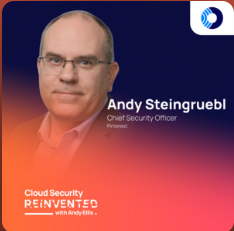 When someone says Pinterest, the first thing that comes to mind is a social platform and a place to seek inspiration. But for the people working behind the scenes, it's more than that.
In February 2021, Pinterest had 459 million active monthly users. That's a lot of data and traffic, and security measures must be put in place for an exceptional user experience. So how do they do it?
In this episode of Cloud Security Reinvented, our host Andy Ellis chats with Andy Steingruebl, the Chief Security Officer at Pinterest. The two discuss the difference between the on-premise and cloud era and what differentiates Pinterest from companies like PayPal. They also touch upon the best and worst on-premise practices and the future of technology.
Guest-at-a-Glance
💡 Name: Andy Steingruebl
💡 What he does: Andy is the Chief Security Officer at Pinterest.
💡 Websites: Pinterest
💡Noteworthy: Andy is an Information Security professional with more than 25 years of experience. He has extensive experience in most security management and architecture areas, including Policy, Compliance, Communication, Infrastructure, and Incident Response. He is an excellent communicator with the ability to communicate with all levels of the organization, customers, policymakers, and regulators. He has a track record of significantly contributing toward making the internet a safer, more secure place for users and companies.