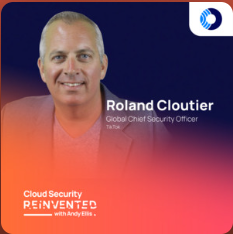 Episode Summary
Cybersecurity is an ever-changing field. And since the emergence of the cloud, social media networks, and machine learning algorithms, the security space has continued to evolve to respond to the market's needs.
But some things never change — the willingness to learn, adapt, and improve remains the golden standard of cybersecurity.
In this episode of the Cloud Security Reinvented podcast, our host Andy Ellis welcomes Roland Cloutier, the Global Chief Security Officer at TikTok. They talk about the most significant changes since the emergence of cloud computing, what it's like to work at TikTok, and why technologists should always keep learning.
##
Guest-at-a-Glance
💡 Name: Roland Cloutier
💡 What he does: He's the Global Chief Security Officer at TikTok.
💡 Company: TikTok
💡 Noteworthy: As Global Chief Security Officer of TikTok, Roland Cloutier brings an unprecedented understanding and knowledge of global protection and security leadership to one of the world's leading media, social, and technology companies. He oversees the company's information protection, risk, workforce protection, crisis management, and investigative security operations worldwide.